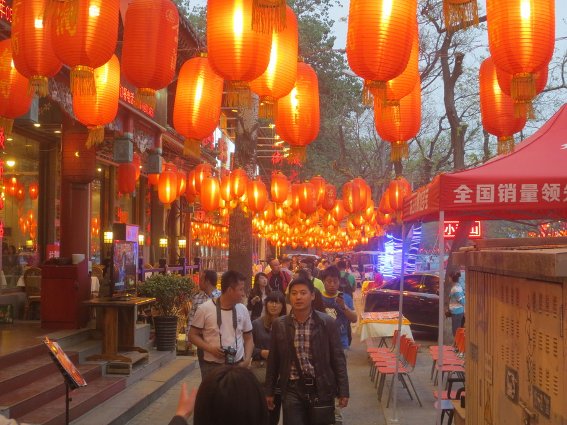 "These flower pepper. You don't eat these. You eat these everything else tastes like burning" said our waitress in China town Chicago, pointing to the little black beads in the La La La Chicken that my family had ordered. Of course I had to try one and she was right, everything else tasted like burning afterward. Well, maybe not burning so much as like flower pepper.
Also known as the Sichuan pepper, this common Chinese ingredient is not closely related to black pepper or chili peppers and its chemical effects come from a different molecule entirely. After my first run-in with the flower pepper back home I'd yet to cross its path again until I went to Sichuan and since then it's been in a lot of the food I've eaten. To be honest I don't care for its flavor and it numbs the mouth and overpowers everything else for a couple minutes after eating one.

After Xi'an I made a quick stop in Shanghai and the neighboring Suzhou. I'd heard great things about Shanghai and always wanted to go but didn't think I'd make it there on this trip. Thanks to China's bullet trains which travel at over 300 kilometers per hour I was able to see more of China than expected. Like the modern city/country of Singapore, I was a bit disappointed with Shanghai. I guess modern just doesn't really impress me.
Suzhou on the other hand is full of gardens and temples and sounded like an ideal spot for me. Unfortunately I found the gardens there to be a bit of a let down as well. Empty rooms and fake concrete rocks sparsely scattered with dry plants wasn't exactly what I envisioned. When one of my best friends who lives in Beijing and who I haven't seen in years told me that he'd have to work the whole time I was planning to be in Beijing, I bought the first train ticket I could to go see him. In the end I only spent one day each in Shanghai and Suzhou and I'm content that that was enough.

I'm glad I went to Beijing early—it's a big city with lots to see. My friend Evan and his wife Amy met me at the train station and escorted me back to their apartment. The next day Evan and I went around to several of the Beijing tourist spots and then met up with Amy when she got off work to enjoy a classic Chinese hot pot which featured my old friend the flower pepper. Beijing also afforded me an opportunity to catch up with a couple more friends that I made in the Philippines.
After a couple days in Beijing I headed to the nearby Tianjin for the weekend so I could play in an ultimate frisbee tournament with my friend Rob who I was traveling with at the beginning of my China trip. Rob's friend who invited us to the tournament said that we could stay in one of the dorms at the sports college in Tianjin. I met Rob and his friend at the sports college and they informed me that we had to lurk outside for a bit until the night guard fell asleep. I took out a disc and we began to toss under the street lights. A little after 10pm I noticed a group students gather under a neighboring street light. I suspected some shady activity was going to take place—gambling or a drug deal or something like that—but was pleasantly surprised when I heard them practicing their a cappella. It was like something out of a movie to see a group of people singing on the curb under a street light. A little while later we successfully snuck into the dorm which may have been the most trashed place I've seen on this trip, including the hobo-inhabited abandon buildings I broke into.

The tournament was held on really nice fields at the sports college and being without cleats I played Wala style once more. Rob and I were on the Xi'an team named Rou Jia Mo which is also the name of a delicious and popular meat sandwich in Xi'an. Conveniently there was a Rou Jia Mo stand right by the fields so Rob and I both got one after our last game. The team was abnormally large so I didn't get as much playing time as I'm used to. The team itself played ok and finished toward the bottom of the highest pool. More importantly we won the spirit award for the tournament.
Like most ultimate tournaments there was a party on Saturday night and like most tournaments there was a theme. The theme for the Tianjin party was "Tight and Bright" so before I left Beijing I went shopping with Evan and Amy and bought some really cheap, really tight and really bright cloths. With a bright wig and glasses borrowed from my other Beijing friends I was ready to rock, and rock I did. After the tournament was over I headed back to Beijing to hang out with my friends and see some more of the city. I've been able to avoid the flower pepper when dining out in Beijing the last couple days and I hope to continue that trend.
Soundtrack: Give It Up (KC and the Sunshine Band)