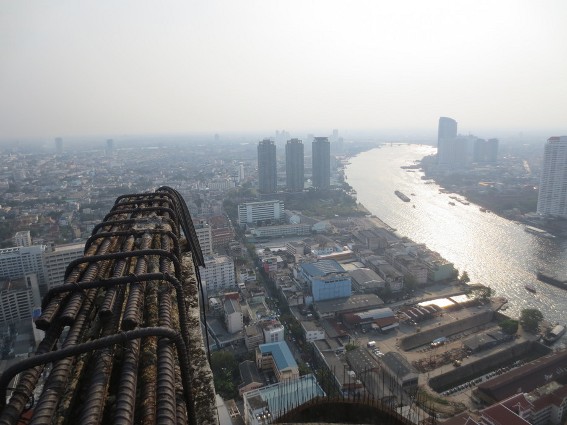 I went to Thailand just to play an old favorite game of mine, ultimate frisbee. I started the game with a strong cut over to Bangkok then a flat out sprint all the way down field to Chiang Mai. Being a vagrant I played Wala style which is to say barefoot, as did a few of my teammates. It was a fun crew of mixed talents and backgrounds but unfortunately we had a hard time connecting and the opposing team took half without giving up a point. A long halftime was declared so we partied hard and won the spirit award. After a good stretch it was time to switch sides and head back to Bangkok.

My cheering section stayed at the far end of the field while I stuck out my thumb to signal to my team I was heading back to the starting end-zone. There was still time before the game was set to resume so I climbed a nearby tower to get a better view of the fields. Shortly before the starting pull we switched things up and I took over the captain position on a new team. I also used the halftime to find someone with an extra pair of cleats, which they were nice enough to let me use.

Again my team came out slow and lost the first few points. Then a long time out was called and we spent some time talking strategy and more importantly partying and getting to know each other. When the game resumed we were playing like a team. We had good movement and flow and started putting points on the board. Our long streak was eventually broken but we came back and brought the game all the way to a tie. Soft cap was called so we went into sudden death. The other team set up a strong zone defense and I made a poor throw near our end-zone and the other team converted for the win.

Our team walked away with their heads up high; we had played a great game and had a lot of fun. We huddled up and when I asked everyone to give a cheer that reflected how much fun they had they raised their voices and gave a cheer that was surely herd across all six fields and probably the surrounding Bangkok area. After the game another team challenged us to a boat race which we won. We also dominated the competition at a mid-point barrel roll.

I left the fields bruised, scraped, burnt and with a huge smile. I had an absolute blast. I met tons of great people, partied really hard, played pretty well—especially during the second half when the level of play really increased—and was on the best hat team of my life. I'm really glad I made the journey back to Thailand just for that.
How to climb an abandon skyscraper
Walk over the garbage pile and climb through a hole in the fence to the abandon parking structure.
Climb to the 5th floor of the parking structure, slip past the sleeping crack head and wait for the advertising employees to leave.
Cross the closed off rickety metal bridge. Be cautious not to wake the crack head or draw attention from the public, otherwise your group might have to split up.
Climb along the ledge and shimmy around the fence. If you wake the crack head, cheese it!
Take the two dilapidated staircases up 50 floors, switching when necessary to avoid obstructions.
When you reach the top, BEWARE OF BEES!
Settle your gut, hold on tight and climb the rebar sticking off the top for an unparalleled view of the city.
Profit

The continuing story of the monk
Turns out giving the flash drive for the monk to a tweaky American hopped up on betel nut wasn't such a good idea. The drive never made it to Mandalay. On my last night in Bangkok while drinking at a bar with my German friend who I climbed the abandon skyscraper with and his Thai girlfriend, a couple of very nice Canadian guys overheard me talking about Myanmar(which is amazing since I had totally lost my voice at the tournament) and asked me for some travel advice. They mentioned that they were flying into Mandalay early the next morning. I told them my story about the monk and asked if they'd be willing to help. They said they would. So my German and Thai friends helped me find a USB flash drive at 11:30pm on a Monday night and then I rushed back to my dorm to load the files onto it and then went to the hotel where the Canadians said they were staying and left it at the front desk. With any luck by the time you read this the monk will have a bounty of useful resources for succeeding in his human life.
You my brown eyed girl
You don't know who you are. You don't know about this site. You won't ever read this. You're not A Lady. I didn't know brown eyes could be so beautiful until I saw yours. Looking away was one of the hardest things I've done on this trip. I hope our paths cross again though I doubt they will. You're going where I've been and I'm not going where you're from. Take care.
Soundtrack: The Edge Of Glory (Lady Gaga)