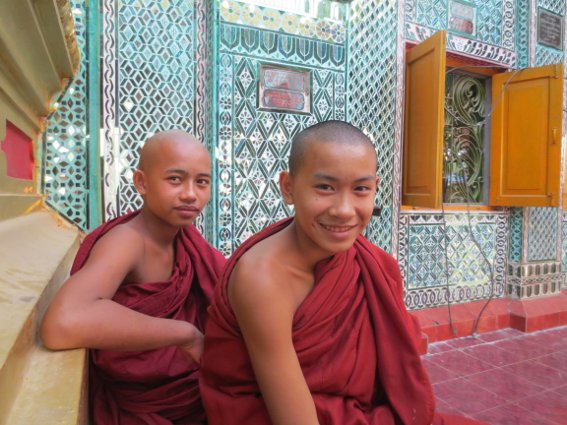 I'm sorry, I brought Brad abruptly into this story without giving you any back story. Brad and I have been friends for around 22 years and he's one of the adults that I respect the most. He's super intelligent, walks his own path, fears little and enjoys life to the fullest. He's well experienced and a very accomplished traveler. He's an old hippy and an old soul. He's traveling Southeast Asia for two and a half months and before he left we'd planned to meet up somewhere. He had gifts from home when I met him in Phnom Penh, Cambodia two weeks ago. We'll probably travel together for another two weeks before going our separate ways. For many reasons I was really looking forward to traveling with Brad and it's been absolutely great having him along. We're great travel companions and even better drinking buddies.
We started our latest adventure by taking it easy, having a couple Myanmar Double Strong brews and watching the world go by. The day thought it could slyly slip out the back but we watched without protest as it faded into the shadows. We figured we should do something but the Royal Palace in Mandalay didn't seem all that great so we figured we'd go to the other main tourist destination and chartered motorbikes to Mandalay Hill.

"Should we tell them to wait for us at the bottom?" Brad asked. "No" I said. "Dios proveerá [a Spanish term that I learned from my friend Miguel which I think literally translates to 'God will provide']. Two sexy ladies will be waiting with their private car at the top to take us back to our hotel... or theirs." So we paid the bikes and I ran to the top up all 1,729 steps. Why the sprint? I'm on what I call the "Rocky IV workout plan" which involves taking the hard way at every opportunity--no snow blowers, power mowers, escalators or pre-split wood. Also the sun was setting.
The path to the top of Mandalay hill was completely desolate and lined with closed souvenir shops, but when I got to the top it was packed with tourists. It wasn't my scene at all so instead of even looking around I went to go sit with some young monks in a secluded corner. While talking with them I noticed a young adult monk nervously clutching a laptop. I introduced myself to him and he showed me a sheet of paper with an email correspondence on it. He explained that he was trying to take an online English class but was having trouble figuring out how to connect. He needed to be online at 9:30pm that night and asked if I could help him. Of course I agreed. Immediately after the sun set all the tourists disappeared and we had the top to ourselves. He told me about the lost ancient form of Buddhism known as Dhamma.

Around 6:30pm the monk asked if we would like to eat some traditional Myanmar food and we said yes. We walked down the hill and hired a taxi. At the restaurant the monk ordered a bunch of small dishes of food which were all quite delicious. He didn't eat anything because the monks don't eat at night. He tried to treat us and the taxi driver to dinner but we refused and paid instead. We spent the rest of the night trying to help the monk connect to his online class. The internet and power source in Myanmar simply isn't good enough for online classes at this time so we tried to find him alternative ways to learn English. The big problem is that he has to go out in the world in 5 months but doesn't have any real skills and he's forbidden to study while he's still in the monastery. We did what we could and told him that we'd continue trying in the next couple days. He asked us if we wanted to visit his monastery and tour Mandalay the next day and we told him that we'd love to. He gave me a book on the Buddhas teachings bookmarked with a lottery ticket.
The next day he met us at our hotel and took us all around Mandalay and the surrounding cities, stopping to visit his monastery, the main tourist attractions and a couple spots the tourists don't know about. We rode local transport the whole time. If we had let him he would have paid for everything. The tourist attractions were nothing special in my opinion but going through the rural villages was great. Most of the women and a few of the men here wear a facial cosmetic paste called thanaka which is made from a ground tree bark, has a pleasant fragrance and is supposed to protect against the suns harmful rays and rejuvenate the skin. It's really great the see the unique ways that each person applies the thanaka.




Myanmar has really changed my view on monks. They're respected but not as much as I would have expected. They're disciplined but not as much as I would have expected. From what I've learned it's expected for most young boys to become monks but not all of them have their harts in it so they aren't as committed and society has come to acknowledge that and hence doesn't respect people as much simply because they're monks. I've seen monks smoking cigarettes, taking pictures and chewing betel nut and I've met female tourists who said they've been sexually harassed by monks. The monk that showed us around was very nice and had lots of interesting concepts for us to think about. He gave us an audio recording of a Dhamma master speaking about the practice and I'm really looking forward to listening to it when I get the time.
If anyone has any suggestions or solutions for our monk friend please let me know. We're currently trying to get him a copy of Rosetta Stone but that may be a bit difficult. Anything to help him be successful in his "human life" or even put his mind at ease would be greatly appreciated.
Soundtrack: Up On Cripple Creek (The Band)