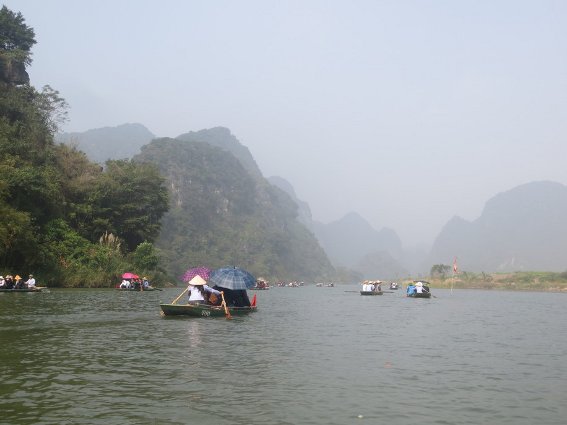 I've gotten used to taxi and ferry boat mafias. Drivers all hang out together and know that since you've got no other option you'll end up paying their inflated price so long as no one tries to undercut the market. Even between different companies they all seem to get along; especially bus drivers, who are always honking, waiving and rousing each other. It didn't seem odd at all when my mini bus from one small town to another in northern Vietnam pulled along side a full-size tour bus and the guy that takes the money leaned out the open door and started banging on the side of the bus. It also didn't seem out of place when the driver of our bus motioned for the driver of the big bus to roll down his window so that he could yell something over the screech of horns which are constantly heard throughout the country. The Vietnamese language is such that it's hard to tell from an outsiders perspective if two guys are having a heated argument or a regular conversation. I knew something was amiss however when our bus quickly cut diagonally in front of the big tour bus forcing it to the curb. The money taker from our bus got out and approached the door of the tour bus and started yelling inside. After a several minute standoff the few passengers from the big bus got off. The money taker tried to get them onto our bus but they weren't having any of it so eventually we let the big bus go and then left with the passengers standing on the side of the road. Unfortunately T couldn't hear what was said and didn't know what was happening either, but I suspect that the big tour bus was trying to shuttle people to Hanoi for a greatly reduced price so they wouldn't have to ride back empty and the local bus company wasn't happy about it. For what it's worth I don't think the mini bus that we were on was charging more than a reasonable price—the equivalent of $2 US for an over 1hr ride isn't that bad.
Vietnam has been a first for many travel related things for me. My initial trip into the country was the longest I've been in transit with a total time of 38hrs. After we left Da Lat, T and I took a 24hr train ride up north which was the longest I've ever spent on one vehicle that wasn't a boat. To get to the train we had to take a 4hr bus ride to the coastal city of Nha Trang where I almost got into a physical fight with a motorbike taxi several weeks prior. A friend from home forwarded one of my blog posts about Vietnam to an old high school teacher of mine who it turns out is currently living in Nha Trang with his wife. Though we didn't get along—I got kicked out of his class in fact—we put our differences beside us and had a great time chatting over lunch. It's amazing how small of a world it is.

Our first destination in the north was the industrial city Ninh Binh which acts as a hop off point for many tourists to visit the water caves in the steep mountains of Trang An. Our 3hr tour which involved going through nine caves and visiting one temple was mostly spent waiting in queues in the sun amongst a river of tourists from Hanoi. A 30min tour through one cave would have been enough for me, but seeing all the Vietnamese tourists and all the boats they had ready for them was quite a trip.
The next day T and I went to Hung Yen to visit her friend. T and her friend made lunch which we ate with T's friends parents. During lunch I learned some cultural differences between the north and the south—in particular the drinking etiquette—and learned that T's friend's father had fought in the American war. Many people have asked me how I'm accepted as an American, especially in places that we've been at war with, and I don't think the sentiment could be any better demonstrated than by a man who fought against us inviting me into his home and constantly filling my drink and putting food in my bowl. T's friend's whole family was amazingly generous to me and while the father wasn't more generous than some of the other wonderful people I've met on this trip, his particular background almost brought a tear to my eye during lunch. I've spoken with many people in Vietnam about their feelings toward America and if anything they seem to look up to us for our civil rights and economic structure.

Dinner was another interesting experience for me but in a different way. T's friend took us out for a local specialty: song bird. Preferring a vegetarian diet and having never been a big fan of seafood I've never selected an animal to be killed so I could eat it. Before dinner T's friend and I went outside the restaurant with our server and she selected two fancy birds from one of six cages all containing different types of birds. Though I didn't personally select the birds I was party to the event and looked a little deeper into the eyes of our cooked dinner. The birds we selected were steamed and halved and preceded by a plate of tiny whole fried birds. I can't say I was brimming with alacrity to bite open their little heads and suck out their brains.
To be honest, the food in the north is way worse than in the center and south of Vietnam. In general it's a lot more bland. It's also a lot harder to come by. On our first day in Ninh Binh T and I honestly spent an hour walking through the heart of the city during the early afternoon and couldn't find a single place to eat. The banh mi and banh bao that were so omnipresent before are now scarcely seen at all. I've now had more eel soup than bowls of pho, including one that looked like they just scooped up a bunch of eels out of a murky swamp and put them in a dish. Every time I worry that traveling is getting stale, that it would take an act of god to impress me, new experiences assure me that I've still got a lot of the world to see.
Where you go?
I was just wandering aimlessly with nothing to do but since you're offering a ride, why not?
I had my mind set on taking a bus but since you're here I guess I'll just pay more.
I may already be in a taxi but I guess I could get out and get into yours.
Since you won't stop hassling me I guess I'll just get into a vehicle with you.
How often does that happen?


I'd like to remind people about the map page which I put a great deal of effort into keeping up to date so you don't have to ask where I am, where that is or where I'm going next. Most of that info is also included in the sidebar of DangerTravels.

Soundtrack: September (Earth, Wind and Fire) [Overlaid with vehicle horns]