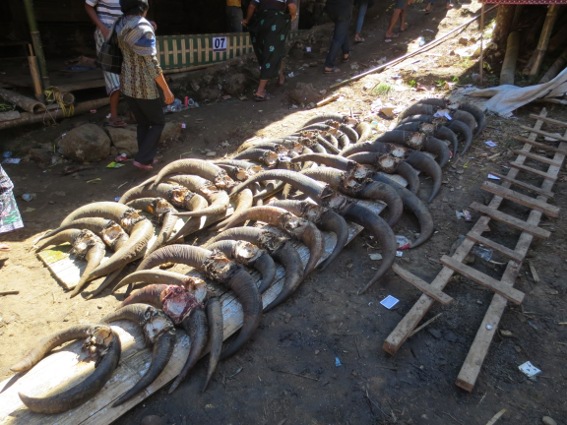 Indonesia is one of the most diverse countries on earth with around 700 languages spanning over 17,500 islands. It's also the county with the largest Muslim population. Each island has an unofficial religion. One thing that unites Indonesia is the presence of motor bikes. On every island in the largest cities and smallest villages you can find refilled bottles of of gasoline for sale in wooden racks lining the roads. If you're on one of the non-Muslim islands the gas is usually in old Absolute Vodka bottles. If you're on a Muslim island the gas is usually in an old water bottle. The gas in Sulawesi is in water bottles.
I found a CouchSurfing host in Makassar last minute and agreed to meet him at the university where he teaches English. I opted for the far more complicated(and it was) but also much cheaper and more authentic transport scheme from the airport. On a sweltering pete-pete I met a very nice local girl who offered to show me around so we exchanged contact info before I got out.
I arrived at the university which looked like it could have been from any of the worst American ghettos. Broken windows, no front doors and hoodlums loitering around. Not my ideal place to wait but I survived until my host came down and dispersed the crowd that had formed around me. The inside of the building looked more like something that was under construction in Chernobyl when the power plant went berserk. I ended up having an impromptu conversation with the English class, then dancing Gangnam style and doing some Party Rock inspired shuffling with them.

After class my host proceeded to take me on house calls throughout the evening so I could fulfill his private English lessons. Then we went back to his place where he made some very forceful unwarranted sexual advances. Don't worry, I'm fine. That's a nice part about being bigger than almost all the guys here. I reported the host to CS and will continue Couch Surfing. Like the Indian guy from Rinjani—who's son sent me a nice note explaining the cultural difference that might have led to a misunderstanding—I'm not going to let one experience sully my view on a large network like CouchSurfing or the city of Makassar.
After a sleepless night I escaped and I texted the girl form the pete-pete who made good on her offer to show me around and ensured that I tried all of Makassar's specialties. She also helped me find a place to stay and took care of me in general. My departure from Makassar was delayed by the high Muslim holiday of Lebaran Haji which involves the ritual sacrifice of a goat or cow by every family and is done everywhere in the city... in Mosques, in front of banks, on the street etc. At 6am I had already missed the mass prayer but I did see many people carrying around random chunks of meat.
My extra time in Makassar afforded me the opportunity to meet some other nice travelers including a duo from France who I later joined to Tana Toraja, a cultural vain of rare gems in the mineral rich countryside of Indonesia. One of the people from France used to be a professional baker and chocolatier and pointed out the chocolate plant, farmers harvesting and separating the pods and cocoa beans drying. I was told that all of their chocolate is exported but I was able to try a cup of their world famous Arabica coffee which I can't compare to other coffee for you since the only other type I've had has been heavily sweetened Nescafe.

Tana Toraja was full of the unexpected for me, though I've come to expect that. From the comparatively modern and hopping city of Rantepao to the pigs lashed to motor bikes at the market in Bemo to the real authentic funeral ceremony in Lempo to the monsoon that caught me off guard just before my bus back to Makassar. I encourage you to read about the culture of Tana Toraja. At the funeral ceremony we attended there was clear evidence of mass buffalo slaughter, of which we later ate and narrowly escaped getting covered with when the kids carrying the coffin to the rock cave in the hills started slinging raw guts into the procession.

At the suggestion of many of my Indonesian friends I left my new French friends who had given me a 2 page list of things to try in France and some chocolate for my journey and headed for the island chain called Wakatobi. Apparently I took the first commercial flight ever to the island and was greeted with camera and video camera wielding paparazzi, all the the islands uniformed officials, and natives in traditional garb rushing up to the plane on the runway like something out of an old movie. They donned me with a sash and whisked me past traditional dancer to a press conference held on the scorching tarmac.
Unlike probably every other commercial airport on earth, no transport was waiting to take me to the only city which was half an hour away on the other side of the island. A guy from the security staff offered to give me a lift so I grabbed my pack and hopped on the back of his motor bike and we took off straight down the center of the runway which we followed to the opposite end where it met up with a completely unsecured access road.
The dearth of information online and difficulty getting to the island was a tipoff that Wakatobi isn't heavily traveled by foreign tourists. Almost no one on the island speaks much English including the one dive shop I could find. I got S.C.U.B.A. certified in Thailand 6 years ago and haven't gone diving or reviewed my information since. I went on two dives in one day and saw sea turtles, a massive color-and-skin-texture-changing cuttlefish, rock fish, lion fish and schooling tuna. I also bled heavily out of my mouth and nose and probably have Middle Ear Barotrauma. In a tiny market on Halloween I found some of the best chocolate of my life which is produced in Indonesia; I bought 3 boxes weighing a total of about 3lbs.

I've never actually watched The Amazing Race but I find it unlikely that any of the things they have to do are half as complicated as my trip to Wakatobi where there's one airline that makes two flights a week, few people that speak English, little phone service, frequent power outages and getting cash which is necessary for all payments can be very difficult. It was harder than getting out of northern Bolivia was for me and Wakatobi wasn't in the middle of a civil war! Luckily an un-uniformed but likely not undercover policeman helped me out.
It's hard to get by just upon a smile but I'm making it work so far. My next stop is Gunung Palung in Kalimantan on the island of Borneo where I'll hopefully see some wild orangutan before continuing on to Danau Toba in northern Sumatra where I might get another chance to see wild orangutan at Bukit Lawang national park if time permits. After that I think I'll hop to Singapore for a brief bit of ultramodern juxtaposition then Malaysia, Philippines, Vietnam, Myanmar and China. I'm thinking Philippines for Christmas and either Vietnam for Tết or China for the Chinese new year(can't do both of course). These plans are very tentative so don't hold me to em.
Soundtrack: Turn! Turn! Turn! (The Byrds)