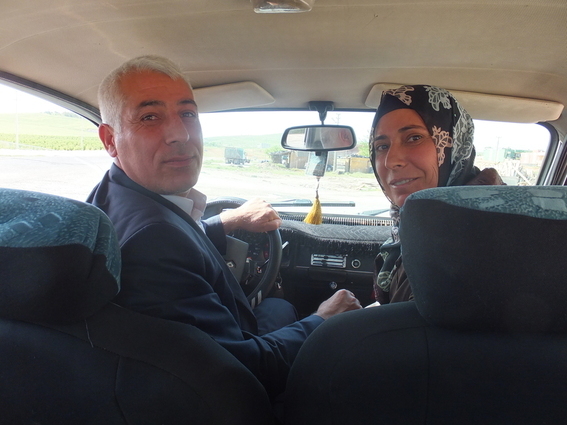 As I sit in the back seat of cars, or the cab of semis, or crammed with two other people in the front of trucks, sometimes crawling and sometimes flying down the road, I struggle to communicate. My Turkish is limited to talking about family and work, and discussing ages and saying that things are beautiful or delicious. The conversations are fairly noneducational and repetitive, and the rides are often slightly uncomfortable. It's draining, and I often think to myself Why don't I just take the bus? Then I remember that it's supposed to be about enjoying the journey and learning about the culture and that when I put myself in these situations I increase the chances of having an adventure.
I decided that I was going to detour from my route between Sanliurfa and Diyarbakir to visit Mt. Nemrut, where in the first century BC an egotistical king had his likeness carved into a statue overlooking a beautiful valley alongside statues of prominent gods. The days had been getting progressively hotter and there continued to be no shade when I waited alongside the highway for rides. As I awkwardly ran with my pack toward the old run-down car on the side of the road, the back door opened up. When the drivers open the door before you get to the vehicle, it's almost always a good sign. It means "We're here to help. It doesn't matter where you're going, you can come along in our direction for as long as you'd like." A nice old couple greeted me when I got inside. I thanked them in Turkish, then began the usual effort to communicate; it was harder than normal.

Eastern Turkey, northern Iraq, northwestern Iran, and northeastern Syria is the home of an ancient group of people called the Kurds. They were there long before the borders of today, and now they're a repressed population in most of the countries they occupy. "There is no Kurdistan" a Turkish man told me when I asked him about it. Why does that sound familiar? I remember, it's a lot like all the Israelis that told me "There is no Palestine." For various reasons the Kurds got the shaft when the Middle East was divided up and they were left with no land of their own. The Kurds have a rich culture with their own food, music, and language. That's why I was having a tough time talking with the old couple in the car. When we reached their village they invited me for chai, and usually I take all offers like that—and I get those types of offers a lot—but I was hoping to make it to Nemrut for sunset and I had gotten a late start in the morning and wasn't moving as fast as I had hoped I would.
I got picked up by the next car going by, which was a driven by a Kurdish geography teacher. With some effort he told me that he knew all fifty states. Before I could formulate the question of why someone who barely speaks any English knows all fifty states, he reminded me that he was a geography teacher and started listing off state names seemingly at random. The expanse all around us was rolling green countryside. It had the collective quality of wonder of the Mongolian outback, where the lack of salient parts somehow summed to a great whole. We could see the teachers stated destination on the horizon when his car broke down. It was 4pm and the city was 20km away, and Nemrut was another 90km past that. I considered trying to find another ride and pushing on for the summit, but decided that I was "in this together" with the driver and I would wait with him for help to come. So, I did what I would do if I broke down along the side of the highway with my father: I took out a disc and asked if he wanted to toss. There was a slight breeze but he learned to throw quickly and really enjoyed it. A "mechanic" (read: some guy with a few tools) came from the city and did some stuff under the hood, then limped the car into town.

As we were pulling into Adiyaman the mechanic turned the car off onto an access road, then started driving into the industrial district. I was debating asking to be let out so I could try to hitchhike further or take a bus into town, when he pulled the car up to a bus parked in front of an auto shop. The geography teacher got out and spoke to the people on the bus, then ushered me on board. A guy in the front seat said that he would help me find a place to stay in the city. The bus meandered through the outskirts of town before finally arriving at the city center. When the time was right, the guy sitting next to me gestured that we should get off. He motioned for me to follow him and grabbed my day pack. After a few blocks we were at an old pansiyon. They told me the price and showed me a room. It was an unventilated closet with the smell of bad plumbing permeating from the bathroom, but I didn't want to be ungracious so I told them I would take it. It's the nights I spend alone in rooms like that which are the toughest. As I sit in the dimness knowing that there's no English speakers for kilometers, I tell myself that bright things are on the horizon.
The next day was Friday so the city buses weren't running. After a few kilometers of walking down the main drag on the way out of town, a trucker picked me up. We stopped for chai at the next city over, then he left me on the side of the highway where he had to turn off. A catering truck was the next to invite me in. The last time I got picked up by a catering truck they stopped at a construction site along the highway to deliver food, and the boss invited me to lunch with them. I wasn't so lucky this time. I walked through the little city that the men dropped me off in, and as soon as I reached the end of town a beater stopped to pick me up. I crammed in the back seat with a French guy playing the baglamas. He was hitchhiking to Nemrut as well. The car dropped us about 15km down from the top of mount Nemrut. There were about four cars going on that road per hour, so we decided we better start walking. A couple kilometers later, a new Mercedes stopped to give us a lift.

The man inside was Kurdish, but spoke English fairly well. "Nice car" I told him. "It's normal" he replied. He told us that he owned a construction company which was building a new road to Nemrut and that he was going to inspect it. He also told us that he was PKK. "One mans terrorist is another mans freedom fighter." The PKK is a militant group which protects the Kurds, primarily in Turkey. I first heard about them from my friend Joshua who had snuck into PKK territory with a journalist to speak to their leader a few years earlier when the situation was far more tense than it is now. Since then I've heard lots of conflicting things about the group from people in Turkey. We arrived at the new road which was probably 5km away from Nemrut, and the man invited us to come have a snack and some chai with his workers. We had a few hours before sunset so we decided to join him. He talked to his workers, then said he was going to walk the road for a bit while they prepared the food and tea. As we strolled down the path cutting into the valley he told us about all the places around the world that he'd been.
Like most people in Turkey, he asked me my religion. After trying to avoid the question for a while I told him that I had no religion. He mimicked the action of shooting me with a machine gun, then said "I kill you." I'm used to minor threats on my life, so I responded dryly and with a flat face "For god? You will kill me for god?" He chuckled and said "No, but this is PKK territory. It's better you say you're a Christian." He described himself as a "Soft Muslim" which I learned was his way of avoiding telling people that he wasn't religious. He was powerful and well-to-do, so of course he drank alcohol and did what he wanted on Fridays. After a meal of explosively delicious chicken cooked over a wood fire, the man drove us to the top of the mountain, said goodbye, then promptly turned around and drove back down.

Nemrut wasn't what either of us were expecting. For one, we thought there'd be places to sleep at the top, but even with a tent there was nowhere to stay, and besides it was far too cold for camping. We walked to the statues; they weren't nearly as expansive as I had envisioned. Over one thousand years of nature had taken its toll and left many of the statues toppled and the rest of them headless. It was approaching sundown and there were few people at the top and no through-traffic (being the end of the road), so we were a bit concerned about how we were going to survive the night. A nice Kurdish man approached me at the statues and offered to take my picture with my camera. I asked him where he was going that night and he said Sanliurfa. I was hoping to continue to Diyarbakir, but I didn't know if I'd be able to make it that night, and I didn't have anywhere to stay there if I did make it, and I didn't want to spend another lonely night in a dingy pansiyon. The French guy was hoping to head in a different direction, but we both had to get down the mountain and to the main road before we could get anywhere. I asked the man if he could give us a ride, at least down the mountain, and he said yes.
I called my CouchSurfing friends in Sanliurfa, and the guy that had hosted me a couple nights before said that he could host me again. It felt nice to be somewhere familiar when I arrived back in his neighborhood. We went out to a cafe that night and had some traditional Turkish coffee, which was presented at the table with much pomp and circumstance, then did what most people were doing and played some backgammon. In the morning we had a common local meal of roasted eggplant and anaheim chilies. One thing that I really like about Kurdistan is the neighborhood bakeries. Every couple blocks there's a baker who makes fresh local bread all throughout the day. But that's not his main purpose; his main purpose is to bake things for the community. In my experience, the bakery is always next to a little market where fresh vegetables can be readily obtained. Having roasted vegetables is as simple as grabbing a few eggplants and peppers from the market then going next door and having them baked. The last time I was in Urfa I made the local specialty of lahmacun with some guys from CouchSurfing by getting some onions, tomatoes, and peppers from the market then walking next door to the butcher who cut some fresh piece of meat off of a hanging carcass and ground them all together, then proceeding to the baker next door who rolled out bread and spread the mix on top and baked them for us while we waited. While standing outside the bakery we saw women approach with platters full of delicious meat or vegetable dishes to be dropped off and picked up in half an hours time. The community ovens are extremely cheap to use and if you buy bread to eat with your meal then they don't charge you anything for cooking your food.

After breakfast I went to the edge of town to wait for a ride to the mountain-top, Kurdish city of Mardin. A nice guy in a pickup truck stopped and motioned me in. After about an hour he pulled into a service station and told me that we were just stopping for a glass of chai with the owner who was a friend of his. He introduced the short man with hazel eyes as Johnny-Usta (spelled Can Usta in Turkish). The truck driver liked to say "Johnny-Usta", using it as both a description and an explanation, perhaps because he didn't have much else to say. With communication being tough in Kurdistan I decided I should probably learn Kurdish. I quickly found out that learning Kurdish is tantamount to learning "Native American". The Kurds are actually a bunch of different tribes united by region and oppression. I liked Johnny-Usta; he had an unashamed bewilderment toward me. It wasn't so much a curiosity about who I was, as what I was doing there. It's a look I've seen on the faces of lots of locals in odd places, which is simultaneously unseen on my face but usually present in my mind. Also, I find Middle-Eastern men with any eye color other than black or brown to be very striking and handsome. To heat up the water for tea, Johnny-Usta stuck two stripped wires connected to a hot plate into the socket of an outlet and then jammed a screwdriver in to keep them in place. "Johnny-Usta" the truck driver said, smiling and lifting both his hands and shoulders.
A different truck driver took me the rest of the way to Mardin, then helped me find a city bus which would take me to the stop where I was supposed to meet some guys from CouchSurfing. The stop was on the opposite end of town and the bus got stuck in traffic jams on narrow cobble-stone streets a few times, but I eventually made it. My hosts in Mardin were five young university students living in an over nine-hundred year old house. Four of them were Kurdish and one was an even more minor minority called Zaza. They were the kind of curious and ambitious young people that are rare these days, the kind that reads book for pleasure. They loved to host because they were eager to learn English and exchange culture, and they had characteristically Kurdish hospitality which is comparable to that of the Syrians or the Sikhs. That night after dinner we sat out in the tiny courtyard of their historic house and talked.

One of the guys looked just like a Kurdish Christian Bale, and he told me that we were drinking "forbidden chai" with "forbidden sugar" and sitting under light from "forbidden power". The tea and sugar were smuggled from Iraq, and the power was being illegally tapped from the municipality. He was proud of the "forbidden goods". One of the other guys told me how he was in danger of being thrown out of the university because when asked on a test why the Chinese built The Great Wall of China, he wrote "To keep out the Barbarian Turks." The Zaza guy was working on a speech about how to tie a shirt around your face leaving only a slit for your eyes in case the police come. I asked the boys about being Kurdish in Turkey and they told me stories about how it makes you a second class citizen. Then the guy who looked like Christian Bale told me "Kurdish, Turkish, not important. What important if you have money. The problem Capitalism. A poor Kurd and poor Turk have many the same." I remembered the man in the Mercedes. It's the same everywhere I thought.
Kurdistan was definitely my favorite part of Turkey. The people were the friendliest (and most likely to pick me up), and the cultural exchanges were the most enriching. I found myself enjoying the journey, and enjoying the destination when the destination was only the name of a city that someone told me to go. I learned a lot about the Kurds and feel poised to learn even more. I saw the effects of Capitalism and modern culture, and I met some very interesting characters. I'm glad I came and I think I'm going to explore Kurdistan a bit more before moving on.
Soundtrack: Work It Out (Jurassic 5 ft. Dave Matthews Band)