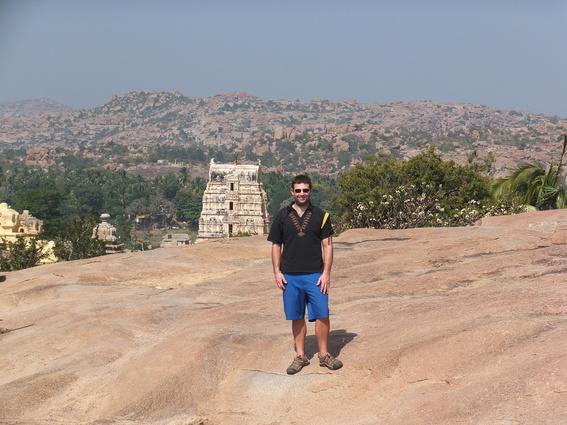 Ace here. I am Beau's older brother for those of you who I have not met. Not to brag too much, but I am crushing the change game. I seem to always have oodles and oodles of 10, 20 and 50 rupee bills (~ 60 rupees to the US dollar). No real reason to have so many small bills but Beau got me all whooped up about the change game when I arrived in India. People are always going to want you to give them correct change even though they can easily make change for you he told me. One of his many astute observations about India after spending two months here.
Like the non-existent customs officers, there was no Beau when I approached the exit doors of the Delhi airport upon my arrival. He was supposed to meet me outside of customs. After a bit of pacing back and forth I finally saw the boy pounding on the window outside the airport. For those who aren't prepared for it, the stench outside can be a little overwhelming. Luckily Beau had got me to prep myself in an email before I left by telling me to crap in a bag and then lite it on fire in my room. The smell I was prepared for, but was I ready for the change game?

Less than 24 hours after my arrival we hightailed it out of Delhi to the ancient temple-mottled, river-spliced, tourist-town of Hampi. It was evident I still wasn't ready for the change game. I mean what kind of noob puts small bills on the outside of his money stack? Maybe in the US, but this was India. I had to learn fast if I wanted to get ahead in the game. In general we were like most of the other tourists in Hampi who were there to take in the temples, idles and beautiful landscape all the while making sure not to make eye contact with the tuk-tuk drivers and monkeys because they'll get you if you look at 'em. But unlike most other tourists, I wasn't going to roll over in the change game so easily. Crossing the river from our hostel to get to most of the temples and the bad-ass, bulgy-eyed temple of Lakshmi Narasimha cost 10 rupees a piece. Twenty if you were ferrying bags across too. Here was a good place to practice.
Ferry ticket salesman: "Twenty for the two of you."
Me: "Okay, here is 100 rupees."
Salesman: "You don't have change."
Me: "Sorry, I only got this hundo."
I lied, I had the change but I knew he had more change. I just watched him bilk 60 rupees change from the three English girls we were paling around with whom Beau had met earlier in his travels. Not to mention the wad of tens right in front of him from all the other tourist he already fleeced. I was getting sharp, but one can only work the change game over in a little town like Hampi for so long. I was destined to try my cunning elsewhere.

The fruit vendors in Pollachi — the town outside the Parambikulam Tiger Reserve — were going to be my next challenge but first we had to get there. Our overnight bus had taken us an hour past Combiatore — the city we were supposed to catch our connecting bus to Pollachi in. The bus wasn't going to turn around for us so they just left us on the side of the road. The director claimed we could get a local bus back to Combiatore. The sun was soon to set and getting a bus back to Combiatore was looking bleak, let alone making it all the way to Pollachi via the circuitous backtracking. So Beau took me on a walk down an access road. A few kilometers walk down the access road we were hoping to meet up with a major thoroughfare which connected to Pollachi. To our pleasure a local bus scooped us up and the locals were loving the two of us. I gave the director exact change, no questions asked. The bus let us off in a little town and pointed us in the right direction. Darkness was starting to settle in but luckily a car stopped at the prompting of Beau's hand gesture; he had obviously done this before. After about a 20 minute drive our savior pulled in front of a bus and ushered us on board. This bus was to Pollachi!
I slipped on the change game when we got into Pollachi and pulled out some 10s and 20s when I went to pay for some grapes. The vendor was delighted. Lesson learned. Keep the large bills in one pocket and the small bills in another. The tiger reserve wasn't worth the not-change we paid to go, or the 5 hour long wait we had to get out of there, but at least it gave me time to think about all the mistakes I had made on my way to getting there. I wasn't going to let that happen to me on the way to the tea-plantation-stocked mountainous city of Munnar.

True to myself, I didn't. From the fruit and carrots we planned to subsist on during our travel to Munnar, to the meals we ate, the coconuts Beau drank, or the sights we paid to go see, I was reaping in the change. I thought I was going to have to make change for this nice French couple we met at a supposedly lovely viewpoint an hour away from Munnar. (I say supposedly because we couldn't see anything due to the fog/clouds.) No matter, I had more than enough at this point but it turned out so did the guy they were trying to pay. Did they have change and were they just playing the change game too? I was kind of looking forward to getting rid of my change somewhere.
Before I knew it things were out of control; I was Scroog McDuckin' in rupee change. I had to find somewhere to dump it off, but where? Luckily a worthy outlet manifested itself to me; the bus directors of whom I have mad respect for. These guys — they've all been guys in my experience — are amazing and well worthy of getting the covetous change. No matter how chaotic the bus gets — hoards of people getting on and off, scattering this way and that — these dudes know who has yet to pay, and, in case they are currently losing the change game, who they still owe change to even if 5 minutes of mayhem has ensued. F*!#ing amazing.
Soundtrack: Here's to the bus driver | Money (Pink Floyd)