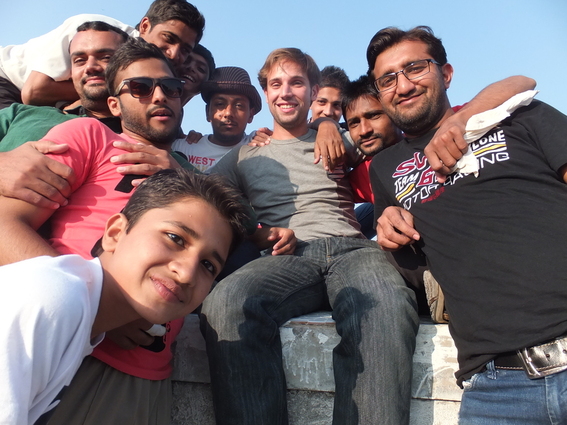 Traveling is stressful whether on a short holiday or a trip around the world, and India is certainly not known for being easy. You'd think that traveling with my older brother Ace would have reduced my stress levels, and in some ways it did, but I felt a responsibility to make sure he had an enjoyable trip, even though I knew he wasn't fussy. I also had to start constructing a plan, and I hate traveling with a plan. Before we left Delhi, Ace and I had booked a train from the south of India all the way back to the north; it was to be a grueling 38hr local sleeper from Kochi to Ahmedabad which was due to get us into town at the crescendo of their enormous annual kite festival.
"You may have to spoon with some random guy on one of these sleeper trains." I told Ace. I'd had to before. The Indian rail system has a couple awesome features which make it superior to other Asian train lines, but it has a couple drawbacks which make it worse. One of the double-edged swords of the India Rail is the wait-list. There's an advanced wait-list system for Indian train tickets which ensure that no space goes wasted. Unfortunately however, anyone with a wait-list ticket is allowed to board the train—and I mean socially allowed since there are no ticket checks on your way into the station, onto the platform, or onto the train. This usually causes a surplus of people on every train (the "unassigned seats" is a different story altogether, and a whole new type of crowded).

There's a strong visual divide among the Indian social strata manifested by grooming and attire. People wearing traditional clothing tend to be noticeably grubby, and people with modern styles tend to look clean. The man sleeping in one of our beds when we boarded the train from Kochi to Ahmedabad was of the latter class. He was polite and offered to move, but I told him I didn't mind if he slept a while longer since it was an upper bunk and at the middle of the day I was happy to sit down below. When I got out my laptop to work he came down to talk to me. He introduced himself as Abhijeet. He said he was a software developer and that he lived in Ahmedabad. Throughout our 38hr journey Ace and I interacted with Abhijeet a lot: talking, sharing food, and in the evening, sharing my bed.
Ace and I were planning to wing it for the kite festival, so we were delighted when Abhijeet invited us to come stay and celebrate with him. Abhijeet lived with four other guys in an unfurnished apartment near the National Institute for Design where he had an office. The three-day kite festival was amazing. The blue skies were checkered with colorful kites, and the black nights were dotted with red floating lanterns. Abhijeet introduced us to groups of his friends, most of whom studied or worked at the nearby design college. All of his friends were very nice and inviting and on more than one occasion we found ourselves amidst a sea of people on rooftops flying kites, cheering, and generally being merry.

One day Ace and I went to explore the old part of the city on our own. While there, we met up with the nice couple from Australia that I played leapfrog with on my way up to Tilicho Lake three months prior. As we roamed around the city, everyone that saw us invited us to come fly kites on their roof. We took a few groups up on their offers and were always greeted with a warm welcome and food and/or chai. As I've written about before, it's not uncommon for me to run into other travelers again, sometimes months and countries later. I was about to meet some more old friends.
When the kite festival was over it was time for Ace and I to return to Delhi so he could fly back to the US and I could meet one of my best friends from home. Like Ace, Aaron had come for just a couple weeks and with the main purpose of seeing me. With Aaron I tried to limit the area of our travels, and even then I found myself stressed and wanting to rush. Our first stop was the city of Jaipur where a new-old friend was attending a large literature festival.

I was practicing my juggling in the parking lot of a dusty bus station in Dunhuang China when I first met Joshua. You don't remember him because I never wrote about him. Something about his appearance made me start with "Do you speak English?" I must have thought he was French. I wasn't used to seeing other travelers at that time. Not many westerners go to the Muslim part of China, and those that do don't seem to end up in Dunhuang. He spoke deliberately, in a manner which made me pause and reflect on how I talked.
Joshua was an American guy from Oklahoma, but had spent the past five to seven years living outside the US. He'd spent a couple years living in Turkey, some time in Australia and South America, quite a bit of time traveling, and a year or so living in India. He was a travel writer and a fiction writer and a travel-fiction writer. We spent a couple days traveling together in Turpan, then split and met back up in Kashgar. I only saw him briefly in Kashgar, but before he left he told me if I was ever in Dharamsala I should drop him a line.

When I was in north India I sent Joshua a message and he invited me to come stay with him and his fiancé. I got into town on Thanksgiving evening and spent a very nice and chill week in a place that didn't feel at all like India. It was a refreshing change and certainly helped lower my stress. When Aaron and I met Joshua in Jaipur he was having a rough go of things, as sometimes happens when you travel. He had lost his wallet immediately after going to an ATM, and then fallen through one of the many open grates in the sidewalk, soaking one leg in raw seweg. The end of the literature festival was kind of a bust, but we all had the best time we could.
When the festival was over, Joshua, Aaron and I went to Bundi to check out a derelict palace, a hilltop fort overlooking an indigo city, and lots of awesome stairs. Less touristy than the rest of the Indian state of Rajasthan, I found Bundi to be quite charming, if a bit in disrepair. I had done some laundry when we were in Jaipur and due to overwhelming gloom it still hadn't dried on the day we clambered around the hilltop fortress—but the weather only added to the decrepit ambiance. Traveling with Joshua was always enjoyable, but Aaron and I had to keep on keepin' on.

We relaxed a bit and took a cooking class in Udaipur while waiting for our clothes to dry. I had been wearing my thermal underwear, my swimming trunks, and a dress shirt for far too long. Our final stop in India before returning to Delhi was Jaisalmer—a desert town near the border with Pakistan. Getting there and finding a place to stay involved the same frustrating process you often go through when traveling in India. We figured we'd get away from the crowds and the hassles by doing a two-day camel trek through the desert. Though booking a tour was more stressful than I would have liked, we ended up having a pretty good experience. We slept by ourselves on some sand dunes with just a couple of blankets, and before going to bed Aaron taught me quite a few things about the stars. In the early morning we sat on the dunes watching the sun rise over Pakistan.
In a couple days Aaron will fly back home, and a few days after that I fly to Jordan. I'll be sad to see Aaron go, but I can't say I feel the same about India. Perhaps I'm getting burnt out on traveling or maybe I've just spent too much time in Asia. Either way it's time for me to make a big change. I'm looking forward to the countries ahead—Jordan, Israel, Turkey—and I'm hoping that a few days in Delhi will give me time to catch up on things and unwind before starting the next part of my adventure. There's lots of friends I've made while traveling that I'm excited to see in Israel, and I'm excited for all the friends I've yet to make in the rest of the Middle East.
Soundtrack: Royals (Puddles Pity Party)