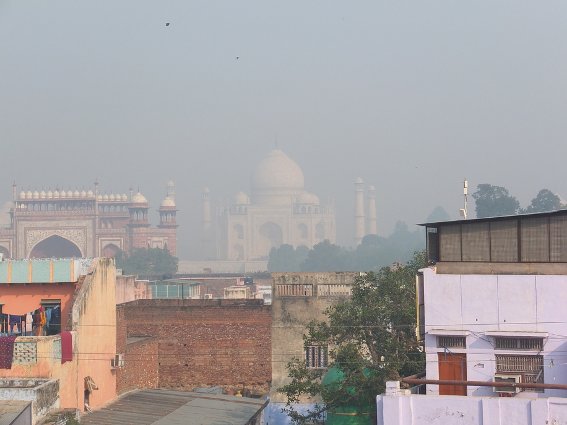 I think the air in India is killing me. It's odd that people in India don't wear face masks like they do in other parts of Asia. It's quite possible that India has the worst air I've ever experienced, though I do remember one day in Beijing where my eyes, nose and throat all burned after being outside for just one minute. There was also a pretty bad day in the capitol of Kyrgyzstan... On the whole, I think India is the worst. I recently spent a day in Agra and stayed at a hotel right next to the Taj Mahal. The astounding building was visible from the rooftop restaurant, but only through a thick haze of pollution.
I got up really early to see the sunrise at the Taj Mahal. Sunrise and sunset usually provide the best light for pictures, but not in India. A thick layer of smoke blocks any beautiful rays of light from dancing across buildings and landscapes, but does have the benefit of making the sun appear as a brilliant orange disc in the mornings and at night. Regardless of the lighting, the hard time breathing, and the herds of people, the Taj Mahal was pretty cool. It's best viewed from afar, but an close-up look reveals a tremendous amount of inlaid semiprecious stones. The building itself is primarily made from white marble, which is a stark contrast to the rust colored stones which makeup the nearby Agra Fort.

An American traveler I'd met in Darjeeling a couple weeks ago, then randomly bumped into in Varanasi, then met up with again in Agra, spent the day walking around town with me (which probably wasn't the best idea given all the pollution). It must have taken us 20 minutes to circumnavigate the Agra Fort. The red fort features a sizable moat which used to be filled with crocodiles but now contains only garbage. The quantity and consistency of the garbage in the Agra Fort moat makes it a greater deterrent than a river full of crocodiles. At one point my friend remarked that it was the worst smell he's ever experienced, and he'd been traveling Asia for a couple months. "Yeah... heh heh heh" I chuckled. I tried to think of a worse smell that I'd come across but couldn't quite bring one to mind. The bad smells all kinda run together in memory. Well, there was this one roadside bathroom along the Pamir Highway in Tajikistan which smelled pretty bad...
Speaking of nasty bathrooms, a reader recently used the general comments section of my blog to inquire about the toilet situation in Asia. Surprisingly, it's no worse in India than it is in many parts of Asia, though it's definitely no better. The first thing to understand about bathrooms in Asia is that they almost never have toilet paper. In fact, they can't even handle toilet paper; it will clog the plumbing.

In most of Southeast Asia they have sprayer jets. They're basically like the sink sprayers that some western homes have. On the whole they're pretty sanitary, but I don't understand how you're supposed to use them without creating a terrible mess. Then there's the places that just have a spigot, like India. In those places you're supposed to use your hand, you know, like how you're supposed to use your hands when eating in those places as well (though you're supposed to use different hands for each task). I've noticed that of all places in Asia, the places with just a spigot are least likely to have a sink with soap next to them.
Then there's the toilet itself. Western style "throwns" are extremely uncommon outside of tourist areas. What do they have? Porcelain squat toilets usually. In some places the pit toilets are hooked up to plumbing and have a method for flushing, but in most places there's just a bucket and a tap and you're obliged to dump a bunch of water down the hole after you're done. If they exist as at all, urinals vary the most widely in terms of design throughout Asia. Sometimes there's a trough, sometimes there's some sort of container on the wall which just has a whole that empties above your feet, and sometimes they come up with something completely surprising.
In modern Asian countries like Japan, South Korea, Singapore and Hong Kong, you're more likely to find "western" style bathrooms, though even there it's not uncommon to get a squat toilet with a spigot. Interestingly enough, I've run into the most bidets in India, and the fanciest toilet I've come across was not in Japan—though I don't remember exactly where it was at the moment. It all takes a bit of getting used to. Going to the bathroom was easy enough to cope with, but the air pollution still gets me.
Soundtrack: Season Of The Witch (Donovan)