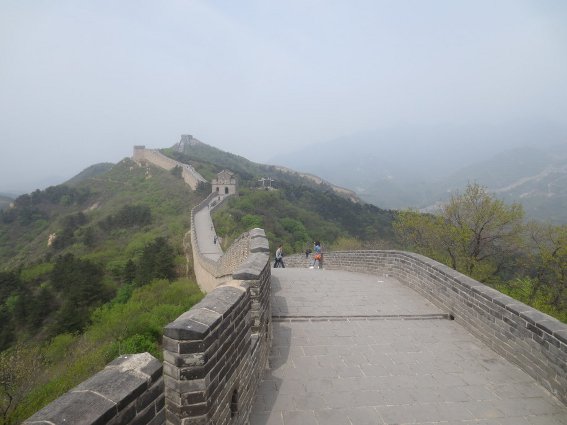 Most of the locals I've met on this trip, especially those in Beijing and Seoul, have told me that I've been really lucky with the weather. Had I been in either place just a week earlier I would have gotten cold and clouds rather than charming temperatures and fair skies. On one of my remaining days in China I went to the Great Wall—not to be confused with China's Great Firewall named Golden Shield which I'll be writing about after I'm certain I'm not going back to China for a while—and apparently missed Tom Cruise who I'm guessing was there a day early staking out a seat for the David Gueta concert. The wall itself was more underwhelming than disappointing since I didn't have very high hopes for it in the first place. The most exciting part of my great wall excursion was the dash from the train station across the wet platform amidst a torrent of Chinese tourists to the unassigned and insufficient seating of the train.
After using every single one of the 30 days China had allowed me to be in their country, I took a plane to Seoul Korea. My first three days in South Korea seem like a drunken blur. I suppose I did drink a lot now that I think about it. On the first day I rushed around to almost all of Seoul's main tourist attractions which were predominantly old temples landscaped with overflowing azaleas of white, lavender and rouge. The lilacs, bleeding hearts, apples and a few cherries were also in bloom all over Seoul—at least in the rare patches where there isn't concrete—and they created both an ocularly and olfactorily pleasing juxtaposition to the tall white skyscrapers and underdeveloped sewer system of the city.

That evening while waiting for a lantern parade to begin I met a group of Canadian and American expatriates who teach English in Seoul. They invited me to join their group and we watched the parade together. About two and a half hours into it I really needed to pee but I didn't want to leave because I kept expecting something really cool to happen. Eventually I couldn't hold it any longer and said that I was going to the subway—where there are always bathrooms—and a few people from the group decided to join me. One of the Canadian guys seemed particularly excited. One the way back to the group I discovered that the Canadian guy was excited because he thought we were going to Subway the restaurant, so we made a quick stop on our return. Right as everyone was in the midst of ordering subs we heard a super loud roar come from outside. I jumped, and one of the girls yelled and pointed outside. I rushed out to see a huge, fire-breathing dragon lantern snake off down the street. I had almost completely missed it!
After the parade I went out for dinner and drinks with my new friends. I learned a whole new set of cultural drinking etiquette and got to have a few Korean specialties which I had yet to try. On just my first day I had probably sampled half of the traditional Korean cuisine that I had been hoping to get. I find Korean food to be the spiciest of all the countries I've been to so far, and spicy with a good flavor. Their main hot sauce resembles Sriracha (cock/rooster sauce) in both taste and appearance. We finished the evening with lots more drinking and a private karaoke room where I sang The Edge Of Glory (Lady Gaga), Build Me Up Buttercup (The Foundations) and I'm Yours (Jason Mraz). Nearly all of the karaoke rooms I've been in show completely random music videos during each song. On that particular evening the videos seemed to be even less fitting than in any of the rooms in the past. While an American girl sang Sweet Caroline, the TV screen showed a bunch of soldiers getting blown up or otherwise decapitated. An interesting scene to be sure.

The next day I met up with my new friends again and we went "urban exploring" which involves walking around town and drinking. Both drinking and being drunk in public is totally legal in South Korea and seeing guys in business suits wasted at 4pm and stumbling around the streets is quite commonplace. I've heard that both the #1 and #3 selling alcohols (by case) in the world are the two main Korean drinks: Soju, which is an awful distilled alcohol similar to vodka, and Makgeolli, which is like unfiltered sake. The parks in South Korea are the best I've seen in Asia. Most of them have free exercise equipment, soccer fields, ponds and badminton courts, and one of them had an 800m track, a speed skating rink, a huge rock climbing wall and a skate park.
That evening I spent the night at a jjimjilbang, which was another interesting experience. Jjimjilbangs are traditional Korean spa's where for a relatively small amount of money—surprisingly small given how expensive everything else is in Korea—you can spend the night in a huge complex with two special floors for each gender where you go completely nude and have access to fancy showers, five hot tubs of various temperatures, a cold bath, a steam room and a rock salt sauna, as well as a common floor with tons of other "rooms" including several crawl-in "kilns", pyramids and things that seemed like human sized tajines. The whole area, including the common and segregated floors, are open for sleeping and I saw Koreans passed out everywhere as if they had all been turned to kittens that were busy playing all day and then just curled up wherever they were when they got tired, as kittens are wont to do. I slept in the mens sleeping dorm which seemed like a bit more comfortable location than the stone floor in the well lit common area, but to each their own.

Korea seems to be more different than any of the other countries I've been to so far. Things are clean despite there being less trash cans than in China. Side dishes (banchan) are the main attractions of their cuisine which seems to be surprisingly unhealthy. The men are really effeminate and fashion is definitely important, not that it wasn't in Vietnam or China. I feel like I'm the worst dressed person in the whole country, especially when I'm doing any kind of hiking. Koreans will spend as much as $10,000 USD on hiking equipment because no hike it too light to be decked out in top-of-the-line gear, and if they're gonna have a snack at the top they'll definitely need at least five side dishes... and a bottle or two of makgeolli.
There, a whole article without making a pun about the capitol of South Korea.
Soundtrack: (Nothing but) Flowers (Talking Heads)