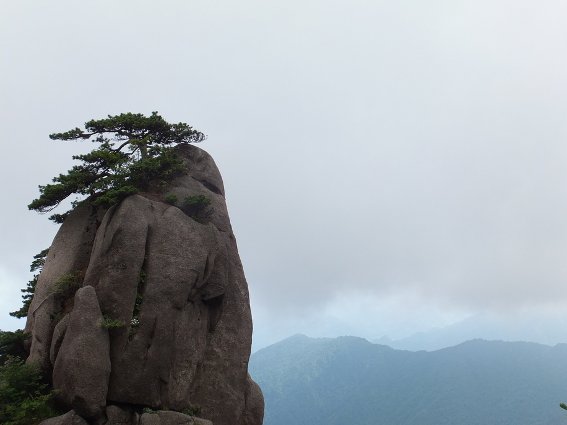 China is supposed to be a secular state, though as a local once told me: "The new religion is money". While the country may be rising economically, I suspect they're in for a collapse. I'm not making that statement based on an educated view of world politics, but on the simple fact that as you move across the country you see hundreds of new buildings being built right next to scores of unfinished and unused buildings, almost as if the country had a guilty conscious about an inherited rifle fortune. I even saw them building an enormous new temple while riding through the countryside.
Though most of the religious artifacts in China were destroyed during cultural revolution, many still remain. Outside Chengdu is a mountain called Ching which is famous for its Taoist temples, pagodas and monasteries. I journeyed there in hopes of spending the night at a monastery, but wound up doing a day trip and returning to Chengdu for new thrills. My friend Clelia who I had traveled there to see, had told me of a place in town where you can go skydiving in a wind tunnel. She told me that I wouldn't be very good at it my first time and may have a hard time centering myself and not bumping around in the tube. I turned out to be a natural and my biggest regret was not trying complicated things like flips and spins.

Clelia and I also explored an in-construction building called the Global Center, which when finished will be the largest freestanding building on earth. Later we went to a old Chinese town where I ran into some people from my neighborhood back home. We walked around the old city at night and ate lots of delicious food—something which Clelia is really good at finding.
I could have enjoyed myself longer in Chengdu but I had to catch a flight to Beijing to meet my friend Moriah from back home who was coming out to travel with me for a couple weeks. We did many typical tourist things, including one I had skipped on my previous visit to the capital: The Forbidden City. The tourist attractions were cool, but neither of us are big city people and the entire province seemed to be blanketed in a thick gray cloud which didn't make us want to stay. The next day we hopped a night train to Yellow Mountain, also known as Huangshan.

Booking transportation in China is kind of a pain if your a foreigner. Domestics can buy plane and train tickets online, or at automated machines at the station, but foreigners cannot. Further complicating the issue is the fact that most vehicles book up weeks in advance, so you really have to plan ahead (which you should know by now is something I'm loath to do). The only tickets we could get for the 20hr train ride to Huangshan were "hard seat". It was a bit of a grueling journey but not as bad as I was expecting. My iPod repeatedly questioned my disbelief in serendipity.
We got to the base of the mountain in the morning, found a place to stash our packs, and started hiking. At first I was a little disappointed. I had heard that Huangshan was nicer than Huashan, which was the breathtaking mountain I had visited on my previous excursion to China. Once we got to the top of Huangshan and ventured over to the distant parts, I found out why it was so well regarded. Huangshan featured vertical white granite peaks inlaid with lush green trees somehow growing out of the rocks. Some of the cliff faces were smooth and their peaks rounded, others were jagged and their tops sharp. Stone and concrete bridges spanned the gaps between mountains and spires. Tall, thick, individual stalk bamboo blanketed the base of the mountain and wild monkeys appeared during our ascent. At the highest lookout point the clouds rushed up and enveloped us, then disappeared to give us a beautiful blue and bright backdrop to the gorgeous mountains.

Our original plan had been to head directly to Inner Mongolia and do some hiking and camping, but I think we were both happy that we had made a completely out-of-the-way stop in Huangshan. Now we're headed north. We really don't know where we're going to go or how exactly we're going to get there, but that's all part of the adventure!
Soundtrack: Me & Bobby McGee (Janis Joplin)