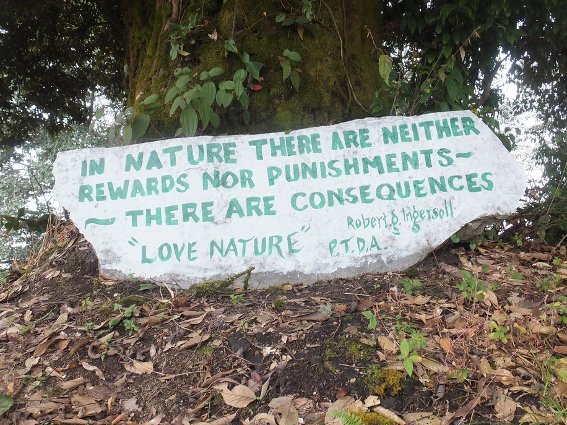 I've been finding myself in the wrong place at the right time a lot lately. My journey into India started well enough. My friend Aabhash escorted me to the jeep stand where a jeep with an empty space up front was just about to leave for the border. As is the case in many parts of Asia, fuel is more valuable than time so a jeep with 12 able-bodied people will wait for hours until two more people come to make sure that the jeep is comically over-packed before it departs. Two men in the jeep asked me where I was going, and I said Darjeeling. They informed me that that's where they were from and that they would gladly help me across the border and to find transport for the rest of the way. "This is going a bit too easy" I thought. It was. It didn't last. It turns out that that border crossing, the one right next to Darjeeling, is only open to Nepali and Indian citizens, I'd have to go far out of my way. A young taxi driver waiting at the border offered to take me to the other crossing for 3,500npr. I had paid just 50npr for an equidistant journey to get to the border, so like I do when someone starts a negotiation with an offensively high number, I walked away without dignifying him with a response. Three shared jeeps + a bus, 170npr and 7hrs later, I was at the correct border crossing.
It was just before five o'clock when I reached the Nepali immigration and I was in a rush to get through before the border closed. I was in an even bigger rush to relieve my bladder, so I ran past the other western tourist who was getting processed just before me. I caught up with her on the Indian side. I was a bit lost, in more than one sense of the word. I was in a city that I didn't know existed and had no idea where it was relative to any of the places I was trying to go (I thought I had detoured north, turns out I detoured south). Dusk was turning to night and I didn't have any local money. "You really shouldda changed money in Nepal" the woman told me. It turned out that she'd been living in the area for years, had done the border crossing several times and was fluent in the local language. "If you were me, what would you do right now? Spend the night? Go to Darjeeling? Go to Gangtok? What about getting money? Are there really no money changers or ATM's on this side of the border?" I asked. "You won't make it to Gangtok or Darjeeling tonight, and you don't really wanna stay here. You should go to Siliguri. In the morning you can go from there to Darjeeling or Gangtok. I'm about to get on a bus there myself, I can help you there."

She told me that she'd been running a training center high up in the mountains and that some of her students were waiting for her at the bus. It didn't surprise me at all when one of her students who was sitting up at the front of the bus with me asked if I was a Christian. Something about the woman's aspect and perhaps the fact that she said she was born in Madison but was most recently from Tennessee, had made me suspect that the "training center" was a bit more than that. As it turns out, it was mostly a bible college. As it turns out, most of the people in that part of India are not Hindus, but more on that later. The student, who was an Indian guy my age, seemed to like me and asked the woman if I could come spend the night at their school. I think out of well concealed acquiescence, she extended the offer. The way I saw it I had two options: spend the night in Siliguri, or go with them. Siliguri was not an inviting place. I saw nowhere to stay and couldn't find an ATM for the short while that me and the student looked. I decided to follow my new friends to their bible college high up in the mountains.
They fed me dinner and breakfast, lodged me, and sent me on my way with two large books on Jesus. My destination was a state of India called Sikkim. If you look at a map for a moment you'll see that Sikkim and it's neighbors appear in a place which looks as though it shouldn't belong to India, and indeed it didn't used to, and for that matter barely does now. Ethnically it's far closer to Nepal. The people speak and write Nepali, they eat Nepali food and they look like the people from East Nepal. Tourism in Sikkim is highly regulated though seemingly unrestricted. You can go anywhere you want, you just need a special, useless permit to do it.
Last year around this time I made a special trip to Little India in Singapore (which is actually quite sizable as far as little India's around the world go), to see what was up for Diwali/Deepavali which is one of India's biggest holidays, often referred to as "The Festival of Lights". As it turned out, nothing was happening. Not even the nearby pickup ultimate game *disapproving glance in the direction of the Singapore ultimate community, the most serious ultimate society in Asia*. Perhaps I was there on the wrong day. Diwali is a five day festival primarily to Laxmi—the mother cow and wife of Vishnu—goddess of wealth. The third day of the festival is when the biggest celebration happens. This year even though I was in India I was still in the wrong place. I was in the part of India where most people are Buddhist or Christian. There were some festivities though.

Modern Diwali is an interesting celebration. Ritually it's like a mix of Hanukkah, Christmas/Halloween and the American independence day. People set out lots of candles, kids light off fireworks, and folks go caroling door-to-door with the expectation of receiving money. Like vehicle horns in Asia, the singing seems to be with the sole purpose of annoying the person into doing what they want, which in this case is to give them money. In Hindu places I'm sure there's more to Diwali than that, but as far as I could tell the people were just using it as an excuse to light off fireworks and go begging door-to-door. I can't say I didn't do both of those things on different American holidays.
Being in a Buddhist area I decided to journey to Rumtek monastery, one of the most important Tibetan monasteries on earth. I think my visit there is best described in the way a young monk greeted me. "Yo, what up bro?" There were little monks with cap guns and a general feeling of not-giving-a-fuck. Perhaps I was there at a bad time. There was a very large Buddhist institution at the monastery and the monks had just finished their final exams. "I'm gonna go watch movies" one of them told me when I asked what he was going to do next. So I pushed on.

My next stop was Kochapuri Lake. Due to a lack of public transport I was obliged to walk the 22km there from Pelling. I had been told that Kochapuri lake was "the highlight of Sikkim" and that the trek was beautiful. The steep downward slope that started the hike seemed to be slimy with anger at my trepidation. It forked and forked and forked, winding through villages, sometimes going right between someones house and shed, almost as if it was trying to lose me. Well placed villagers in space and time pointed me in the right direction. Little kids ran up to me and yelled "Sweets" or "Candy" or "Chocolate" or "Give me money." A note to tourists who fancy themselves St. Nich: Stop. I fell over a couple times with my heavy bag on my back, but eventually I made it to the lake; as did scores of Indian tourists in private jeeps. None of them walked up to the view point because... it involved walking, but they didn't miss much. The unspectacular lake was shown for all it's unglory in full view from the neighboring peak.
The lake, with band playing and dearth of food and lodging was not where I wanted to spend the night. Weary as I was, I hiked another 4hrs to Yuksom. "What should I do tomorrow?" I wondered. "Should I continue 'The Monastery Trek' to Tashiding? Go to the Buddha park of Ravangla? Visit the towering statues of Namchi?" No. I was done. Sikkim was fine and good, especially with it's relatively successful "Keep Sikkim Clean and Green" campaign, but it wasn't India and I was anxious for a change. A change of scenery, a change of food, and a change of culture. I knew what I had to do: I had to head south as fast as I could.
Soundtrack: You Are My Sunshine