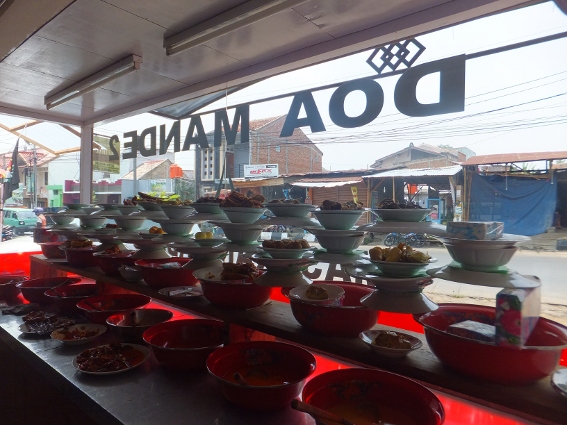 As I mentioned in my previous post, the food here has been delicious. I've tried a different local specialty at every opportunity. Food here is spicier than I was expecting which was a pleasant surprise. It's also been much more sweet and fried than I had anticipated. So much so that after the first day my teeth really started hurting and I had to be careful about what I ate.
One of my favorites has been padang which I've eaten twice now. What I like about it is that I get to try a bunch of different things. I also really like the amount of non-meat dishes they have. They use tempeh and jack fruit in a way you wouldn't know you're not eating meat; in fact, Miguel didn't!
When we were at Sawarna beach I got to try a specialty consisting of raw fruit and vegetables in a very sweet and spicy sauce. It was unlike anything I've ever had before. Here's a picture of the woman making it:

You may have heard of durian, the fruit that's illegal to bring on a Singapore subway. Its so notorious because of it's smell which I would equate with dirty diapers. I've always wanted to try it and hoped that I'd be one of the few white people that liked it. On I got to try durian ice cream with a piece of durian. I have to say, it tasted exactly how it smelled.
I had another first food experience on . Some of the people from the Sawarna trip and some new friends all went to a ramen house that apparently had very spicy food. Off the drink list I ordered the "Mango dessert" figuring it would be like a mango lassi. When my food came it was the first time I said: "That's what I ordered?" The drink looked like a bowl of eggs with cucumbers and fish eggs. Luckily that's not what it was and everything tasted good.
After dinner we all went and sang karaoke. Like many places in Asia they're more serious about karaoke than we are in the states. It was a lot of fun. We got our own private room and sung American pop songs all night. I did Bad Romance and Starships as well as a couple others.
Even though no one was drinking alcohol we left like a bunch of drunks, dancing and singing our way back to the cars, cramming 20 people into an elevator etc. It's been a real treat hanging with the locals. You get a much more accurate perspective of daily life when you're staying with a local than you do when you're living at a hostel.
Many expatriates probably have the observation that people everywhere are very much the same, and I agree with that notion. It's more than the daily life things, which are actually a bit different; it's the hopes and dreams, mannerisms and fears. You can see the same desires and insecurities in a mixed social setting in Indonesia that you see in America or anywhere else for that matter. It's very humanizing.
I've been going non-stop since I got here and it was starting to get to me. I was kinda hoping to take a break from my busy life for a bit. I used all my free time making the previous post on this site but that left me no time to answer emails, write to loved ones or fix bugs in my code(which will drive you crazy).
Vina and I had discussed that we would take Tuesday easy to catch up on stuff, and so we did. By 1pm on Tuesday I was feeling much better. Good enough to go out with some of my new friends to check out Braga, one of the few remaining parts of town with stuff from the Dutch colonization. It was underwhelming. Just a few old buildings which were out of place but not really that cool.
I met some more nice new people and then we decided to go home. I was apparently a long way from Vina's house and public transport has stopped running. One of the girls I was with said that she lived in that direction and offered to take me as far as her house. I acquiesced and texted Vina to see if she'd pick me up from there. She said yes. When I got to the girls house I took off my sandals as is the custom here, and went inside to wait. About 5min later she told me my sandals had been destroyed by a dog outside.
I can't imagine loosing anything worse than my sandals. Take my pack, my med kit or even my frisbees. Those things I can live without or easily replace. I'm sporting some Chaco's that I bought just for this trip. I don't know that I can describe Chaco's to someone that's never worn them. It's everything you want in a sandal. Great support, excellent grip, water proof and very durable. I've tried plenty of others and nothing compares. Nothing even comes close. I honestly can't imagine wearing anything else. I wore my last pair for 8 straight years and backpacked across 9 countries with them and only bought new ones because I figured this would be a long trip and I wouldn't be able to get them over here.
I refuse to wear flipflops—I'm on my feet way to much for that—and Teva's and Keens suck. I feel like Chaco's were made just for me. I'm not sure what I'm going to do. I think I'm going to try to sew and tape them back together—which brings up an interesting point: I haven't seen tape since I got here...