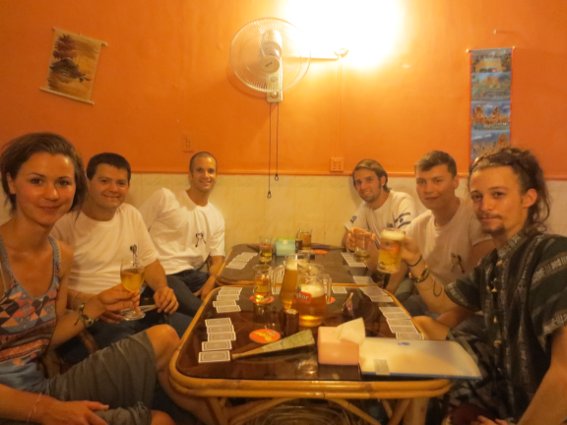 Apparently the term "double entendre" is an English creation and not something that French or even French-Canadians say and no matter how "we" say it, we're usually pronouncing part of it wrong. French people say "double sens" if you were curious. They're also not impressed by drunk and rowdy English speakers, especially when we do our best job to put on a French accent.
Bangkok burnt me out. I had a great time playing frisbee, partying, making new friends and climbing to new heights, but even days after the tournament all my muscles were sore and I was emotionally drained so I decided to head to the island of Koh Chang for a bit of R&R. A relatively short trip from Bangkok and on the way to Cambodia, Koh Chang is a densely foliated island rimmed with white sand and warm water. If I wasn't loath to use the same soundtrack again I would probably end up using Here I Go Again and Welcome To The Jungle for about half my posts. Speaking of the soundtrack, for legal purposes I don't link to songs but you can easily find them by searching youtube.

Koh Chang was nice. In the interest of taking things easy I decided to stay away from the party beach which is where a friend I made in the Philippines was coincidentally staying. It's funny how often travelers cross paths later. While I was on Koh Chang I got an email from one of my teammates from the Bangkok ultimate frisbee tournament that said he was headed to a beach in southern Cambodia for the weekend and invited me and another teammate to join him. It sounded nice and was on my way to Phnom Penh so I left the next morning.
I made it through the Cambodian border without getting scammed once, which is quite a feat(it was exactly like this and this and this). Unfortunately I missed the last connecting bus to Otres beach and had to spend the night in the border town of Koh Kong where I saw what appeared to be an operational gallows and really enjoyed being alone. I got the first bus out of town the next day and met up with my friends in paradise later that afternoon.

I've been to a good deal of beaches in my life and I think Otres was the nicest. Chill atmosphere, glassy water and pure white sand--no rocks, coral or garbage. The waves were minimal and water was a perfect temperature, as was the air in the shade which was not-coincidentally close to cheap drinks. My view on a place is always shaped by the experience I had there and that's often a function of the people I was with. I was at Otres with two teammates from Bangkok and one of their travel companions.
Rob is an amenable and caring man who's speech pattern and eye contact leave you feeling comfortable and calm. Rob takes life easy and studies Khmer and does freelance web development in Phnom Penh while simultaneously attracting ladies with no effort. He gets things done and rises to action when the situation warrants it.
Max and Marius are two sharp witted and jovial English chaps who appear to have a relationship somewhere between that of brothers and an old married couple. Sharks at cards and pool, unbeatable at charades and funny as hell, Marius and Max make any situation more enjoyable. They're currently traveling Southeast Asia for about 4 months.

Together we made a harmonious quartet(and apparently a good looking boy band) with a perfect balance of fun and responsibility. We spent our days lounging and tossing a disc and occasionally jousting on a partially submerged balance beam. The afternoons and evenings were mostly spent playing cards, shooting pool and drinking. On one particular evening we downed three and a half bottles of rum then decided to go down to the beach to see what was happening. For possibly the first time in my entire life I completely "let go". I ended up passing out in a deck chair and getting woken a little while later by Marius singing songs from The Little Mermaid, which he claims was playing at a nearby bar. We had scheduled a tour out to an island for the next day and we spent a good portion of the morning on the boat sleeping off our hangovers. The island was peaceful and had a very long shallow beach which we took full advantage of for practicing our ultimate layouts.

Unfortunately our time of rest and relaxation had to come to an end as I was on a mission to make it back to Phnom Penh for the funeral ceremony of the late King Sihanouk. We arrived the night before the main event and joined back up with my good friend and recent travel companion Brad. The ceremony itself ended up being relatively underwhelming as the crowd wasn't nearly as large and the newly built temple wasn't nearly as burnt as I was expecting. The evening wasn't a loss though, I spent it playing cards, laughing and drinking with my mates and a few stray travelers. I laughed so hard cried, something I've only done a handful of times, the last of which I can't remember. If enjoying the journey takes the sting out of a disappointing destination, keeping and embracing good company brightens even the dimmest event.

I was held up in Phnom Penh an extra day so I could get my Vietnam visa, something Rob helped me do through a motorbike rental slash visa servicing shop carefully hidden on a main drag in town. Rob also helped me locate and stock up on other supplies I'd need for the rest of my trip including a myriad of items I'd recently lost. On my last night in town we went to a romantic rooftop bar for happy hour drinks whereupon we met a couple other expats who joined us for a communal Indian dinner and then the gang and I had a final series of Uncle Phill-esque, stare-em-in-the-eyes-while-shooting pool. After that and a tower of beer goodbyes were in order, but I don't expect it will be long until I see any of them again. Brad saw me off the next morning and will be returning home in less than two weeks time with my cardboard sign autographed by a famous actor and future prime minister of Burma. Brad was the first of my friends from home to join me in my travels, will you be next? I've had a great time since I last posted and it's been a welcome reprieve from the busy flow of Bangkok and my previous travel and has left me well prepared for my continuing journey. I'm also pleased to report that the responsible-seeming Canadian guys successfully delivered the flash drive to the Burmese monk.
Soundtrack: Unchained Melody (Righteous Brothers) [Khmer acoustic guitar]